Yesterday we went to Haarlem Centraal to take pictures with Heikki and Jonas before I left to the EITS -gig. I'm so late on all the posting, since there's been quite a bit happening. Yesterday's gig, anyhow, was so cool, that I want to hype a little before going back in time more again.
Following three pictures by H. Kynsijärvi
Watch add?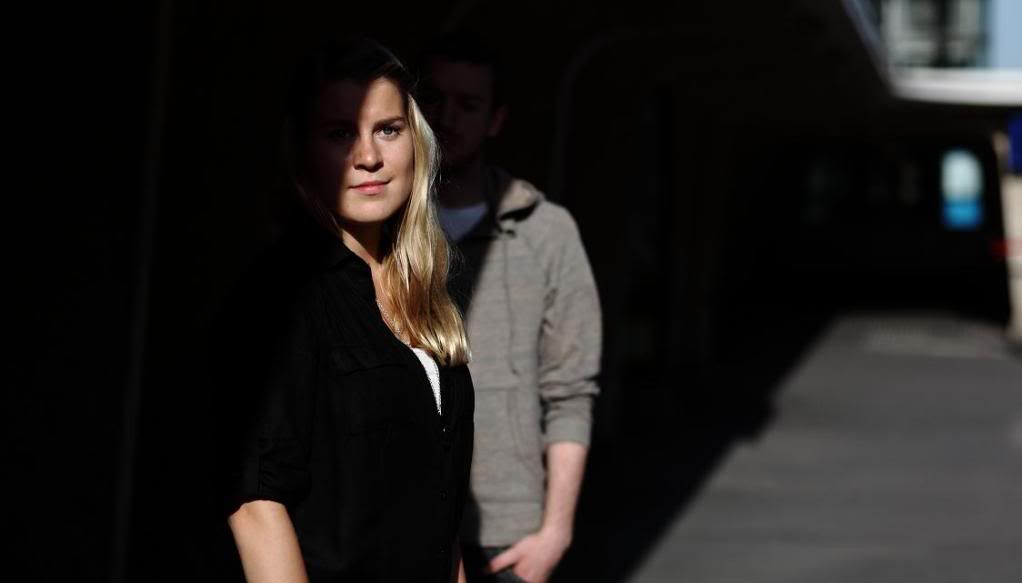 Ready for
@Paradiso 25.5.2011
I went to the gig with Scott and saw Jaleh and her friend after, who also had come to enjoy.
The support act was psychedelic and not even amusingly miserable. I even tried to google for who it was, just for the curiosity of who makes such music. One song that felt like it lasted for 30min, or did it? Loud, scratchy tone, trippy visuals and forever lasting uncomfortable feeling. Why did that guy get such an applause, cheers and hurrays from the crowd? I think I may just have found how far my music understanding reaches to...too much experimental is too much. Plus, if someone was at the gig and can explain me these few questions:
Was the thing he played seriously a song? Meaning, does he like go around the world playing...that? Does he play it the same way always? (if yes, I envy his memory)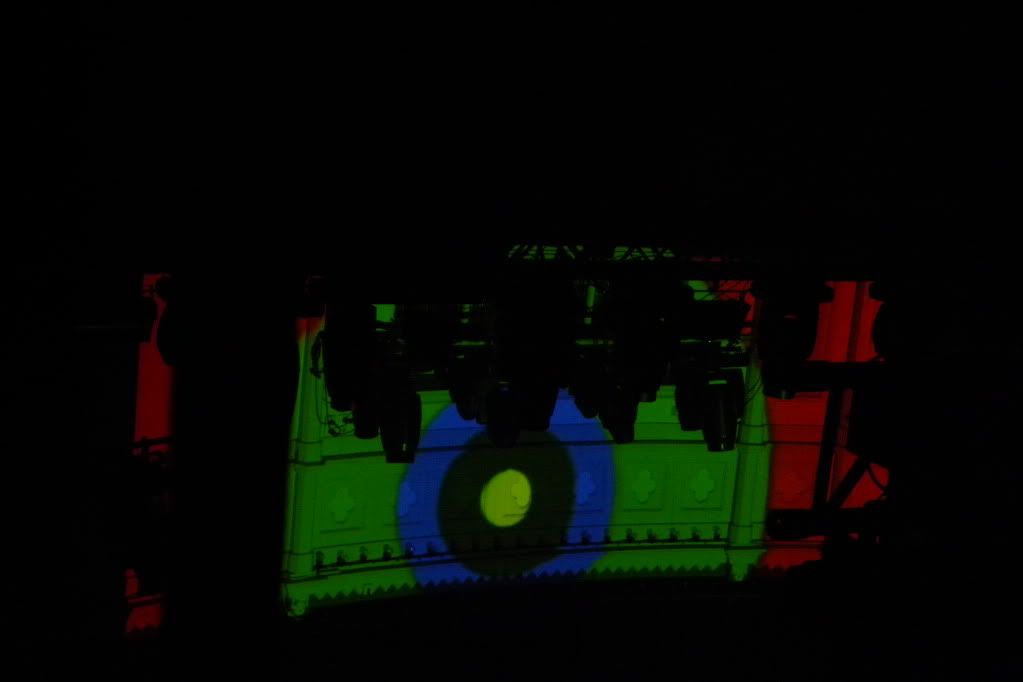 All I could get was his visuals, it was too dark to snap a picture of the Sir.
I wonder what the song was about, what gave him inspiration, or was it just freestyle on a high night.
Actually, now thinking, he was really interesting. Left me curious! I guess the most important thing is to be remembered, no matter what?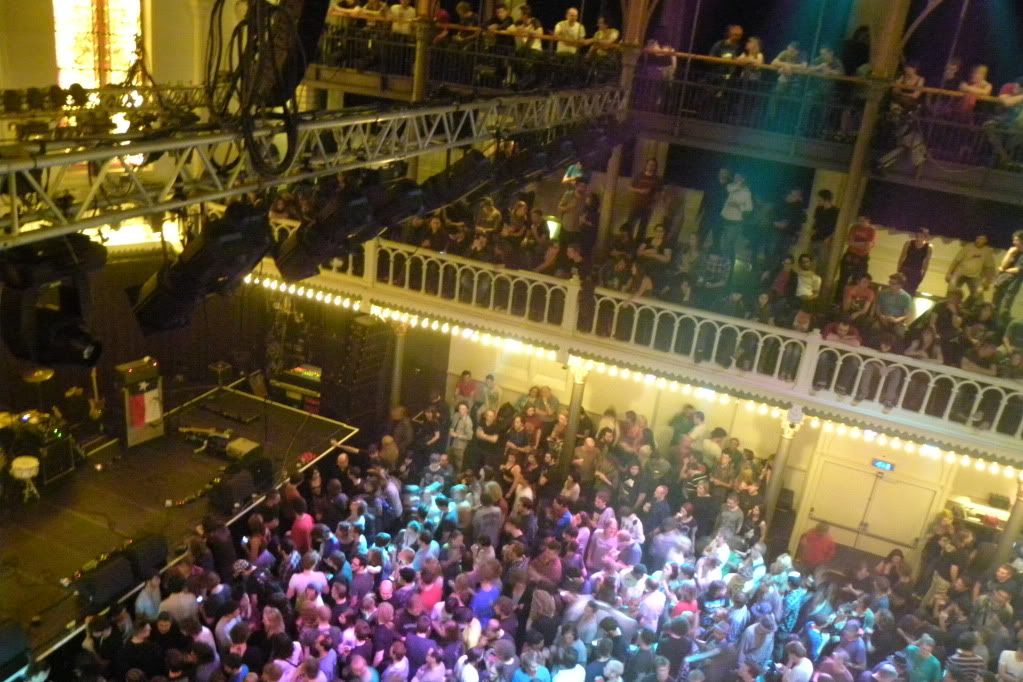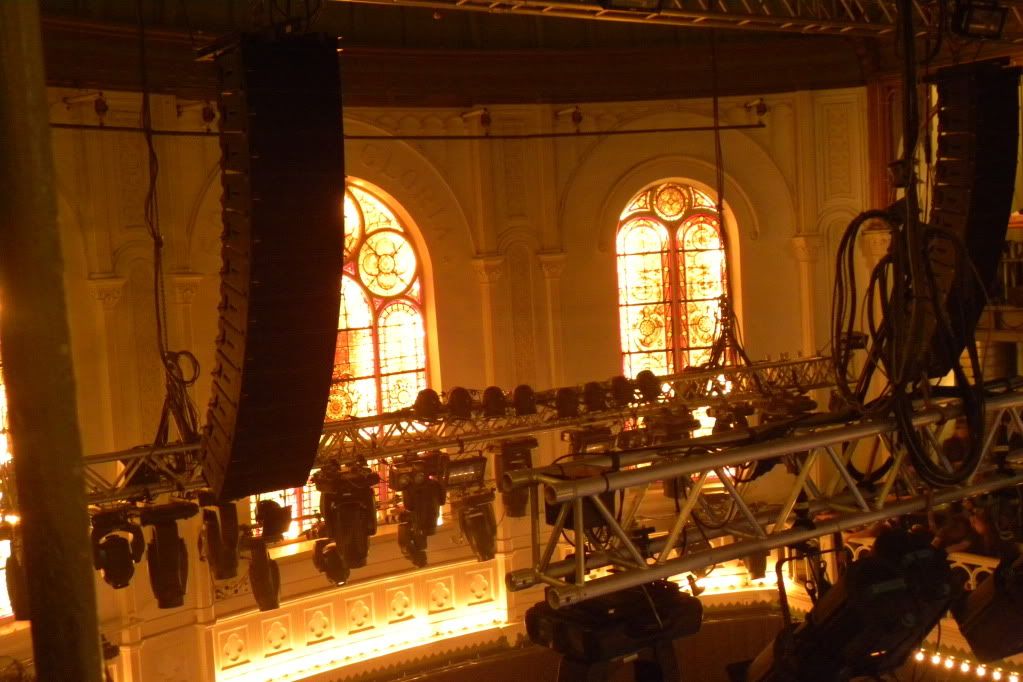 The venue, Paradiso, is a former church building. It is beautiful.
Couldn't have thought of a better venue for EITS to play at. A perfect fit.
Unfortunately the lights were really dim, so taking pictures was a lost choice.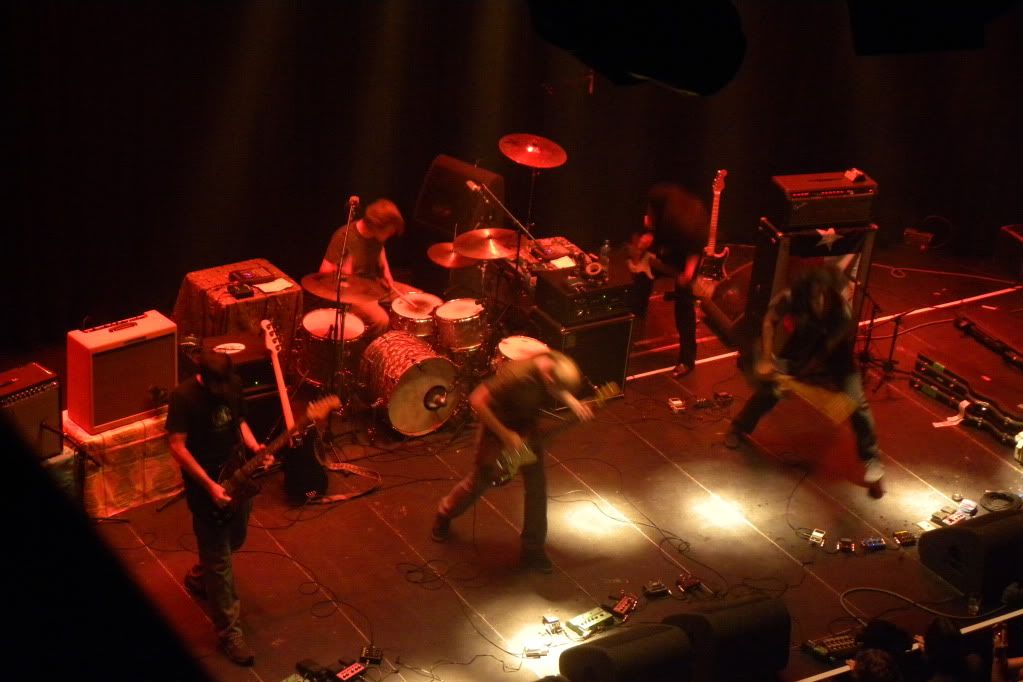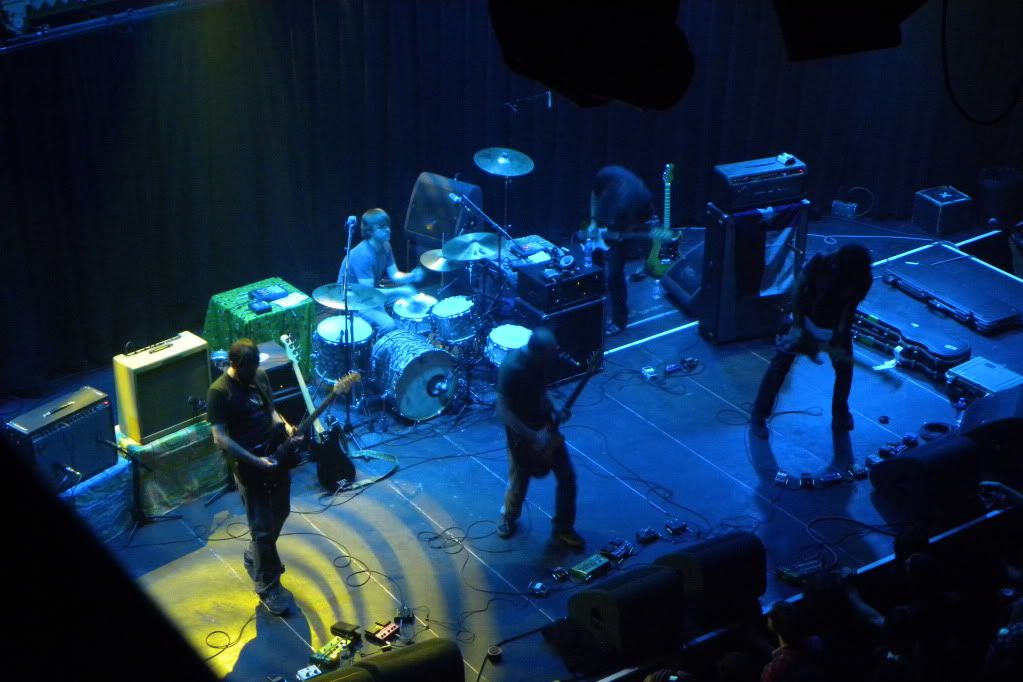 Explosions In The Sky was incredibly beautiful. Felt like an everlasting dream.
We were sitting up on the second balcony and it was amazing to see how the audience was swaying to the music. The band said they had never played for so many heads before.
The extremely touchy music was played with such passion and an intense grasp, that the amount of shivers and smiles the melancholic vibe, yet still greatly positive feel gave was countless.
Is there such a thing as happy melancholia?
Fun fact: I got so tired at the end of the gig, since I used to listen to the band sometimes when I went to sleep. I could have just fallen asleep and dreamt while listening to them play. And please, don't get me wrong - this is meant in the most positive way.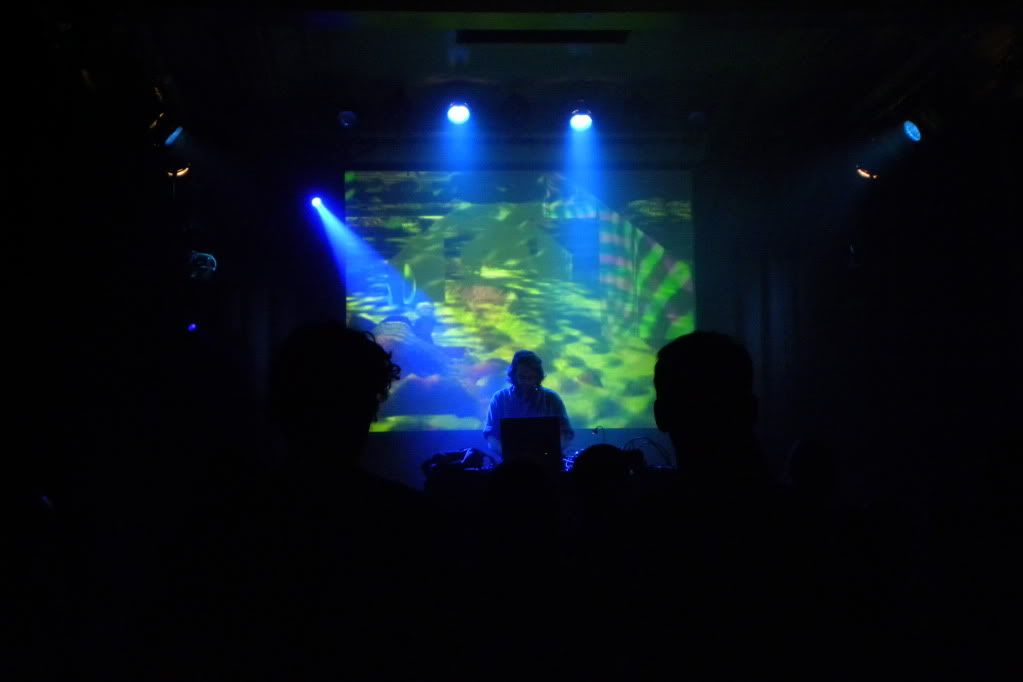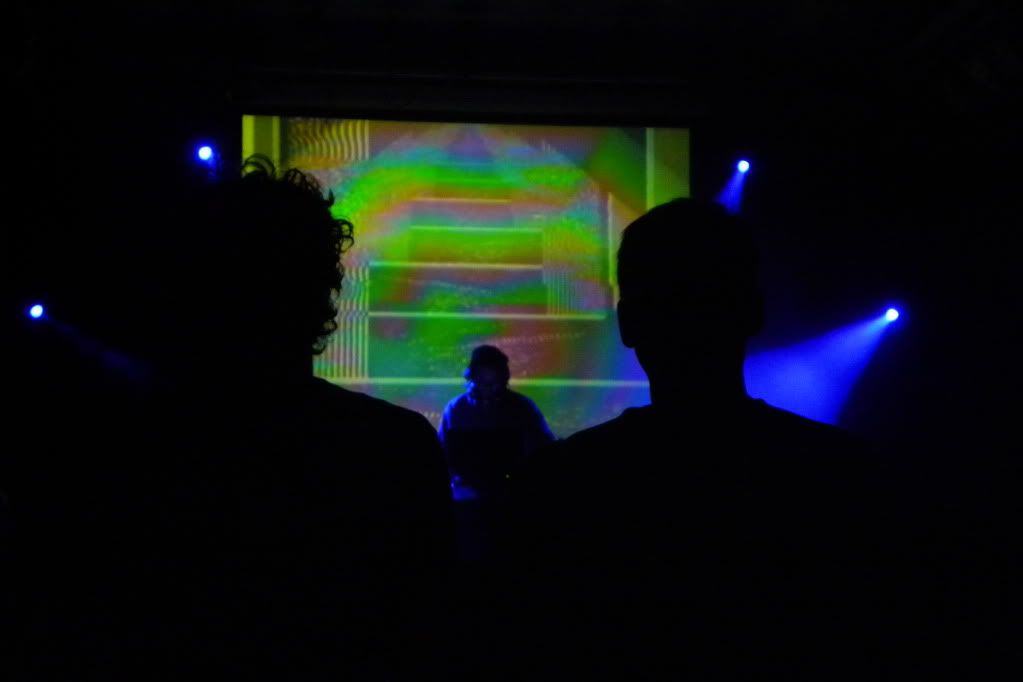 After EITS there was Oneohtrix Point Never playing in an other room of Paradiso.
I had heard a few songs from him, having a favorite called "Returnal", which I wanted to go hear. We went to listen to him for a while but decided to leave, as returnal wasn't been played. Probably saved for last as it is probably his most known song? The other tunes weren't that absorbing.
anywhoo, yet again a great concert, great artists and great venue.
and my first breath after the explosions in the sky coma.
<3
L