I'm a little late with this post as the trip was around 2 months (?) ago - but here, as I promised! (Sorry Hilla for keeping you waiting ;-)
What a pity, Brussels turned out to be a bore. Being there alone for a day was probably the most boring thing I did that month. After walking around the city for 3 hours and managing to see everything worth seeing (yea yea a little exaggerating, I didn't see
everything
during those hours but...I saw A LOT) it started raining so I headed back to the hostel where I spent the whole evening and night wishing I had stayed in Paris for longer. Thankfully I had Esther keeping me company via Skype!
(Ok, I have to say the older area with the La Grande Place and all the area with its' buildings was really beautiful and nice. But that was pretty much all I enjoyed.)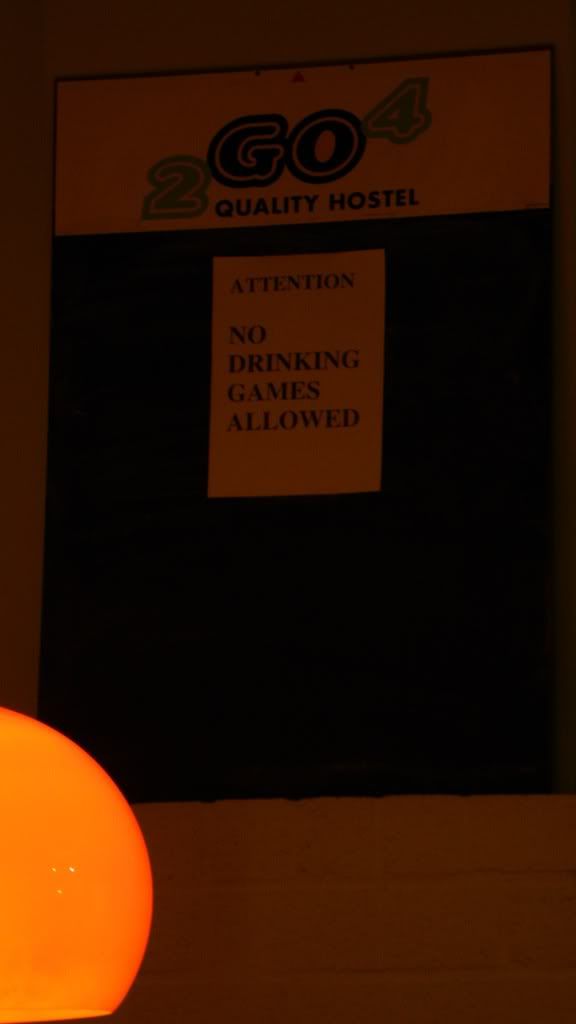 I can promise you these hostel rules were not being obeyed!
2Go4 was a really nice hostel, btw. The staff was so helpful and kind, beds were so comfortable and the rooms were really alright, even though small. I stayed in a room of 18 ppl and it had lockers for all and was well organized. The only gross thing was the downstairs toilets and showers - they didn't work at all.
The next morning I changed hostel from 2Go4 to Gîte D'Etape - Youth Hostel Jacques Brel which had really, really annoying and unfriendly staff. The room was a lot worse than 2Go4, having holes on the rubber covered floor, spotted pillows and dirty cupboards. Anyhow, fine for one night and the toilets and showers were clean and worked so I was happy. The hostel got a few extra points for organic breakfast being included, too. Which wasn't actually too tasty to be honest.
After leaving my bags at Gîte D'Etape I went for a walk and saw:
And met up with Can, Merve and Aydeniz who came to share the hostel me for the second night.
Went to some vintage shops and I bought lovely Tod's boots.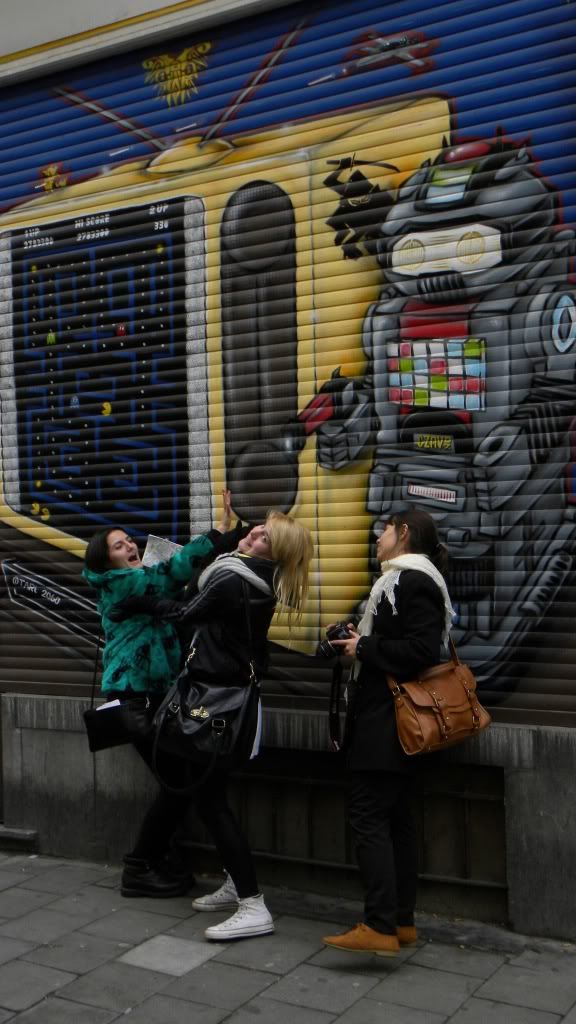 And found Mannekin Pis by accident.
Later on that evening Hilla, San, Cho, Scott, Martina, Nina, Roman and Eveliina also arrived to town so I went to hang out with them.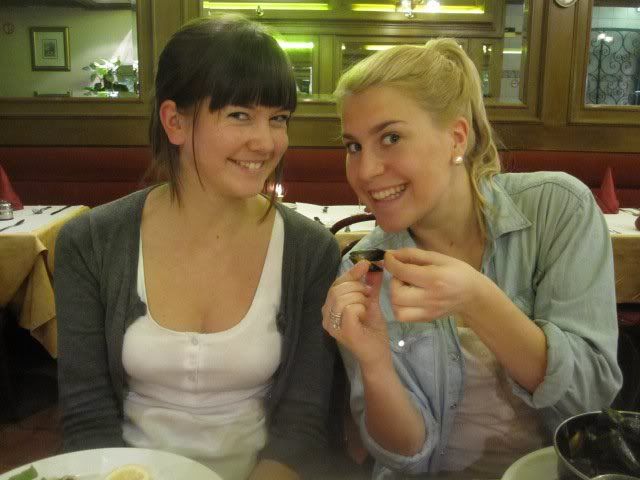 We went to eat - mussels! The 3 course meal together with wine cost us 12€/pp and the service sure was according to pricing. Terrible! At least we made great fun out of it. ;-)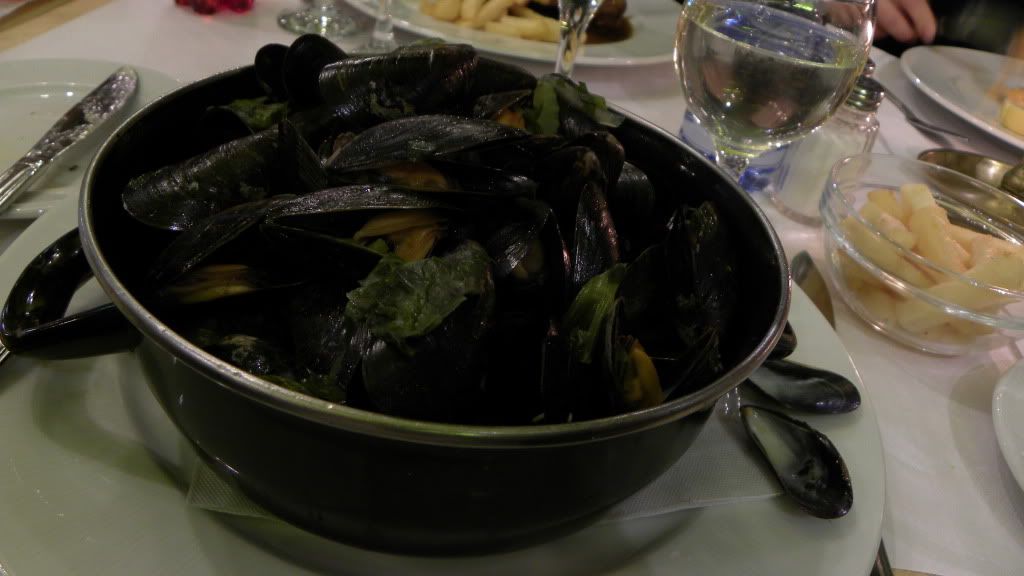 After we went out for a few drinks and found a really cool cafe/bar that had some art exhibition going on. Popped by to see that!
Off the to most terrible flea market I've ever visited. They sold for example: half used toothpaste tubes, mattresses with holes and gross dirty stains, benches from train stations, one lensed sunglasses and clothes that were probably covered in rat poop. Did I buy anything - no.
Quite quickly we were done with our flea market shopping and the guys and Martina went to check out some art museums as us girls went off to have a bite to eat and do some vintage market shopping!
The vintage market was cute! I bought a Maje -dress for 10€ which had to be a bit repaired, though.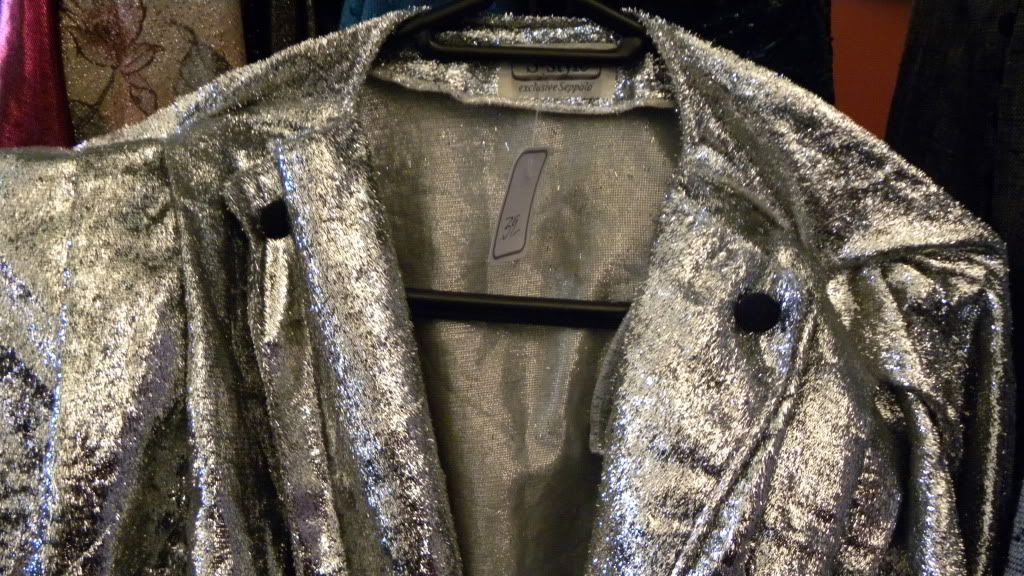 They were selling a Finnish Seppälä jacket!
After shopping and art museums we gathered up to eat before leaving back to Haarlem.
We had a sad incidence with San's bag getting stolen without anyone noticing. Luckily the thief was caught, or well not actually but he threw the bag in a cinema as Roman was chasing after him, and San got his bag back. Roman our hero! What good luck San had along with him and what a last minute tragedy.
Anywhooo, I guess none of us really became the biggest Brussels fans and have no rush into going back anytime veryvery soon. I think I would wanna visit in the summer again, and at least make a trip to Brygge as it is said to be nice.
That was Brussels, hope you enjoyed this post even though the city was bo-bo-bo-boooriiing. :-)