At first for all Finnish speakers (and everyone else, too..the idea should be pretty easy to understand), the core of the guys' visit.
"Jätkien kanssa reissussa. Onko meillä mukavaa, onko?! On todellakin!"
What did we get upto during these 4 days?


Tuesday:
Not exactly the best day to go party in Amsterdam. The place was even more dead than my hometown which has only 25 000 inhabitants! Anyway, we had a lot of fun and got a load of new friends including the owner of a döner place, Tone "Tuna", a bar's doorman, the Burger King cleaner and other random guys.
May I introduce the always excited Timo
Esther took us to Amsterdam and picked us up, what a doll, yyay!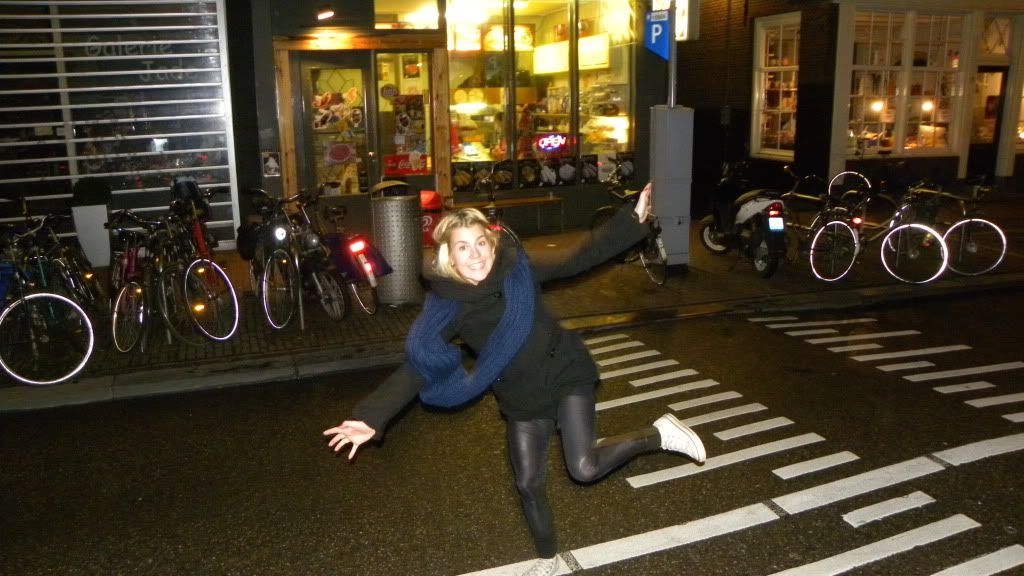 Jump of joy after finding an open and free toilet. "Free", yeah, in return for 3 Dutch kisses.
Bar tender: "Sorry, no, we sell bottled water. It's 2,50€."
L: "What? You are kidding me. I'll just go drink from the toilet's tap then."
BT: "It's not drinkable, you aren't allowed to. One customer got a belly ache."
L: "Ugh, I'll just drink a jäger then."
DJ: "Sorry, no."
DJ: "I'm sorry, maybe I can play something for you?"
L: "Gee man, go on then. Play Aqua's Barbie Girl."
Amsterdam culture day á la boys. Croquets, fries, red light district, shopping, testing sofas at De Bijenkorf, more red lights and the Sex Museum.
Unfortunately it was closed so they couldn't buy souvenirs.
The sex museum -part.
The guys were a bit freaked out to test these facilities.
Shorts on and lets go swim! We went to check out the windywindy beach and had a tasty lunch at Sumo.
Round 3 and our facial expressions must tell how we feel about all the food left.
...and last moment shoe shopping!
Great days with the guys!
Hope they get home safe without any lizards on their way.