We set of with the idea of going to a beach town. Meaning, we wanted to leave Rome.
Chloe had suggested Sperlonga beach but the hotels were sooo expensive there.
We quickly checked the map of Italy, train ticket prices and hotel prices...and: Pescara/Montesilvano sounded like a good idea.
Trains are super cheap in Italy, if you reserve time to travel. The speedy trains are expensive and cost around 4 times more than a ticket for a slower train. Our tickets from Rome to Montesilvano cost 11€ per person. Not bad, not bad.
For some reason the train schedules were a mess but after hassling around we finally made it to Montesilvano. The view from the train was...wow. Amazing. Let pictures tell more than words.
The most beautiful thing during the journey was definitely a waterfall! I totally recommend everyone to take a train ride from Rome towards the east of Italy. Rome to Tivoli is just perfect. A one hour ride and you see all you need. The waterfall, snowy mountains, beautiful nature, small cute towns...etc. Plus we were told that Tivoli is a nice town to visit anyway!
Unfortunately we went up to Montesilvano which is right next to Pescara.
It was: small, ugly, cold, rainy and BORING. And we booked a hotel for two nights. How dumb were we!
The first street we walked on in Montesilvano was even called Via Finlandia.
so...the evening of day 3 was...well, we just walked around on the beach and there's nothing interesting to say.
Was not any better. It was worse. It was raining terribly. We slept, I slept, quite a lot. Relaxing and recovering from all the Rome-walking and heat. In the end it was quite a good resting day. But I really don't recommend Montesilvano for anyone. There is nothing to do. Maybe if the weather would not have been rainy, we could have actually been on the beach and enjoyed our time...but we were unlucky.
Andrea C. this was for you!
In the evening we decided to leave on the first train to Rome. That was 6am.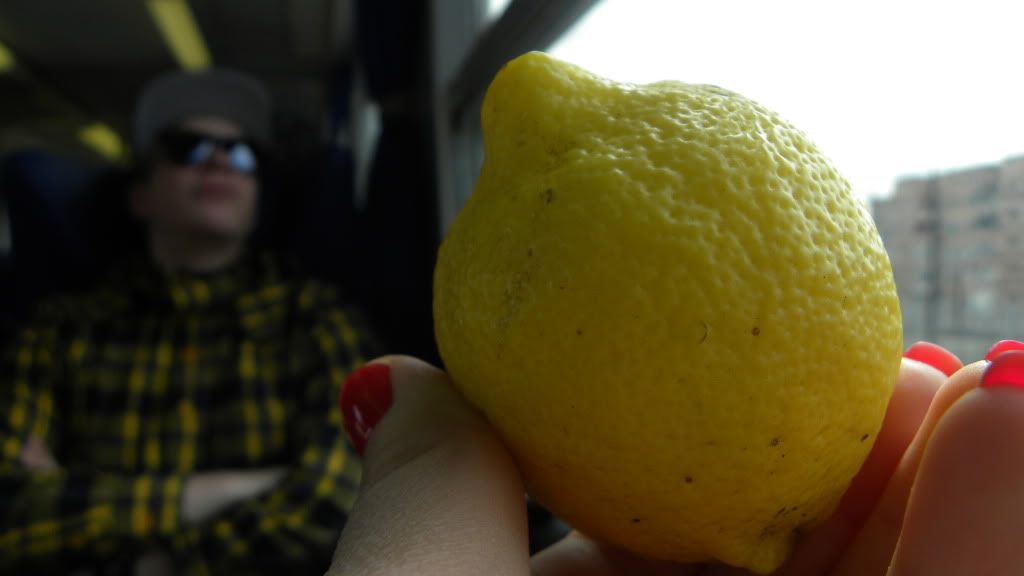 A lemon from Montesilvano which I took with me back to Holland hahah.
Back to Rome. YAY! We couldn't have been happier when we arrived. Finally. Plus J-P had found a really good and cheap hotel right 2min away from the train station. Ok, near the China town area again...but at least it wasn't far away like the last hotel in Rome.
After a little rest we went to the Villa Borghese park and ate some tasty mozzarella ciabattas.
When I was little, daddyyy brought me a big pine cone and they had huuuge ones at the park, too.
From the park we went to check out the Spanish stairs.
J-P being a football fan, he of couuurse wanted to go and see some football stadium. So. We walked to the Stadio Olimpico.
...only to find out it was closed and open for tourist visits.
After a 2-3h walk, that was so pleasant news.
In the evening we went to eat and watch the Manchester - Chelsea match. We went to eat at Alejandro's restaurant, the man who got us our first hotel in Rome. Ale remembered us and we got a table reserved right in front of the TV.
MANCHESTER UNITED WON!!! And JP hated me because I cheered for them and knew they would win and ha ha haa JP wasn't too happy that his favorite team...LOST.
And probably will not be thanking me for mentioning all this once again. :)
The last day, day 6, coming up later again.