Day two in Rome started off with packing our bags and leaving the oh so lovely China-town part of Rome that we were staying at for the first night. Please understand the sarcasm.
We had booked a hotel for 17,50€ each a bit further away from the city. Breakfast included.
As it was only 10am and we had hours before check-in, we decided to walk to the hotel. We thought it would not be "that far".
Many tourist attractions were by our walking route, so we stopped to check out a few. Or in the end - pretty many and nearly all that Rome offers haha.
I really loved the Trevi fountain. It was beautiful. Always full of people, so walking around the closest streets was almost impossible. Anyway, it looked stunning as the sun shone on it.
We walked past some (?) building and heard music...tadaa.
The Pantheon. Umm yea, I didn't find it too special. There was a mass going on so we couldn't go in. For me it was enough to see the Pantheon and mass from outside and yea...it was OK.
We stopped for a sit down at the artistic Piazza Navona. A nice piazza worth going for a coffee at.
Lots of people selling paintings and other art.
The Castel Sant' Angelo. Didn't visit inside as we had our backpacks with us but it's not expensive - just 5.50€ or so. I'm guessing the views are lovely. There is a park right next to the castle where people like to go jogging. It's also a nice area to go sit down and enjoy the sun at. Small but cosy.
The Vatican square was so much smaller than I had imagined! Loads of people were walking towards us as we made our way to the square. I guess the Pope had just ended his speech. What a pity! I would have wanted to high five the chap and joke around. Or at least take a sneak pic of him talkety talk. Unfortunately we were probably 10min too late.
So we walked....
And walked.
And guess what?
We walked. And nearly gave up on life.
But yet we continued to...walk.
Until it was 2pm and we had walked for 4hours. We decided if we won't be at the hotel by 3pm we will take a taxi.
So we walked...and finally made it to our hotel.
Our second hotel, Il Castelletto, was really cute. Totally worth it's price and more.
After taking a shower we decided it was time for food and we found a nice pizza place to grab a bite at. Crunchy pizza yet again. I totally blame TINA for making me find the love for pizza. I used to hate it ! EW.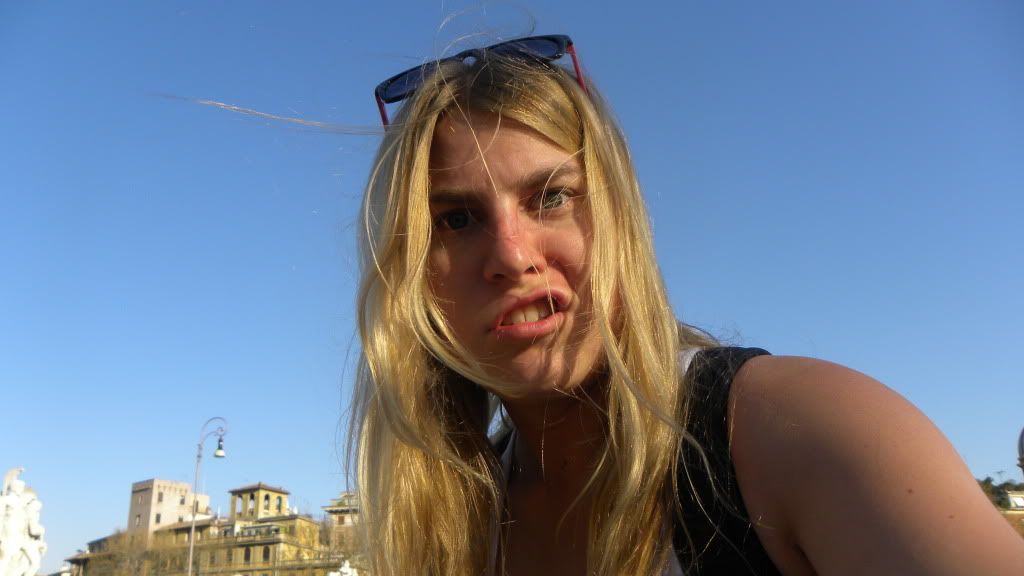 Hello gorgeous!
It was an area you could adopt them from. Nice idea.
Jonas, Lauri, Esther and Tina came into my mind...cats!
We walked past the Pantheon again and there was an aaaamazing artist. My favorite guy of all artists.
He made jewelry out of spoons and forks!
I bought a spoon ring for 15€, which was the only shopping I did during the whole journey. (I'm proud of myself)
I love the ring. It's so great how someone has made up such a fascinating idea. So simple but so pretty !
I want to start twisting spoons and forks into chic rings, too!
So go buy spoons and forks by the Pantheon from this amazing master artist!